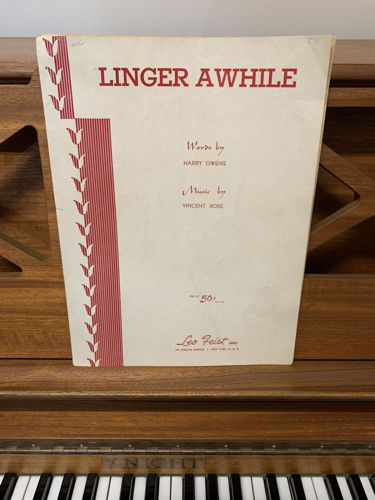 From my pile of old sheet music. I came across Linger Awhile. I knew the title and knew I have heard the tune but didn't reallyknow it well. First I sightread through it and definitely recognized the melody. I should have searched my itunes first but I went to youtube. The first version I lstened to on youtube was of Ben Webster. I liked it but found they never really play the head straight. It's really cool but I wanted to learn the meoldy!
Next I head the Paul Whiteman version which I had not heard before. Obiously it's very old timey sounding and even has a slide whistle solo of all things. I wanted to hear a version with lyrics and found Jimmie Lunceford featured a vocal. This one was from the thirties. When I finally searched my own itunes collection I found I had one version by Lester Young. This is off a CD called classic tenors which has cuts by Lester Young and Coleman Hawkins. I think this was one of the fist jazz CDs I got when I was in High School maybe. So I have listened to that version. Some songs I have heard and just don't know the title!
My next seach was on 78 rpm archive where I learned that Lester Young version was actually released under Dickie Wells and his Orchestra, so it turns out Lester Young was a sideman. There were several more on 78 rpm archive. Next I saw one by Earl Bostic, being a fan I knew I would like it. As expected it's a more rocking version. In addition to Bostic's alto sax it also features a vibraphone. Next up was Rex Stewart and his Orchestra, an Ellington unit. Nice medium swing tempo features trumpet, sax section, and piano. Great sax solo too - Ben Webster.
Next one is another oldie! 1923 - The California Ramblers. This one features the verse (as did Paul Whiteman). Next I put on The Super Sonics from 1953. Label sayd Vocal by Arlene James. I never heard of this group and didn't know what to expect. It turned out to be pretty cool. Vocal harmonies are nice and great guitar work. Reminds me of Les Paul.