About a month ago our upstairs neighbor Alex gave me a couple pieces of old sheet music. Someone at his store had donated them and he took them for the covers. Well I thought might as well see what they sound like! So I discovered a couple new tunes that are are fun to play and I think could even work for the polka band.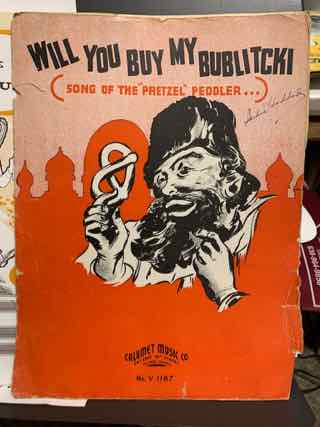 I liked this one for the picture right away and it reminded me of my friend Ed. I texted it to him and he loved it. I played it on accordion, it's a Russian folk song in a minor key. I liked the sound of it.
I started going to youtube and the 78 rpm archive to listen to different versions. Firstly I learned it goes by multiple titles and spellings. I found Russian folk styles and even discovered it had been covered by swing bands like Ziggy Elman and Benny Goodman. One of the more traditional versions I liked was sung by German singer, allegedly of Russian ancestry, Ivan Rebroff, who also did my favorite version of Im Tiffen Keller which we covered in the polka band. I also came to realize that I already owned and had heard a version of this song done by Leon Sash on a record I picked up at Goodwill within the last year. I just hadn't placed it!